Volunteering Opportunities
---
This page gives details of volunteering opportunities in Hertfordshire. If you would like to advertise on this page, please do get in touch. All details are correct at the time of publishing.
---
Charity Gift Wrap
On Saturday 16th December New Hope will be crewing the Charity Gift Wrap station in Atria, Watford, where they will be wrapping up presents for passing shoppers in return for donations. They need volunteers to help with the wrapping. Could you give them two hours on this busy shopping day to help them help shoppers and raise some money. Slots available are as follows: 10am – 12 noon, 12 noon – 2pm, 2pm – 4pm, 4pm – 6pm and 6pm – 8pm. They need three or four people for each shift.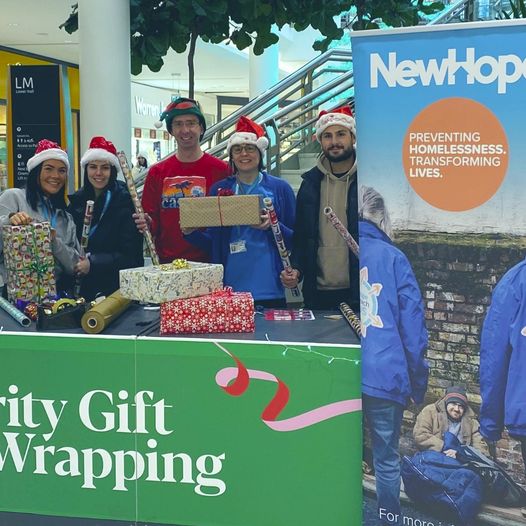 ---
Winter Shelter
Once again, New Hope will be running a winter shelter this winter. They need your help to make it happen. For further information click here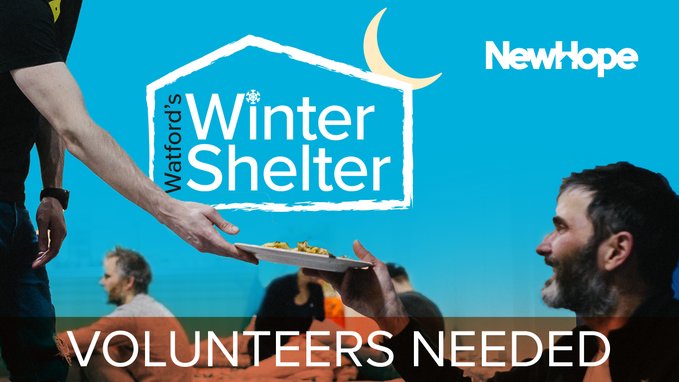 ---
DENS
DENS need volunteers to help them at their Day Centre, Hemel, the first port of call for their services supporting local people facing homelessness, poverty and social exclusion. For further information click here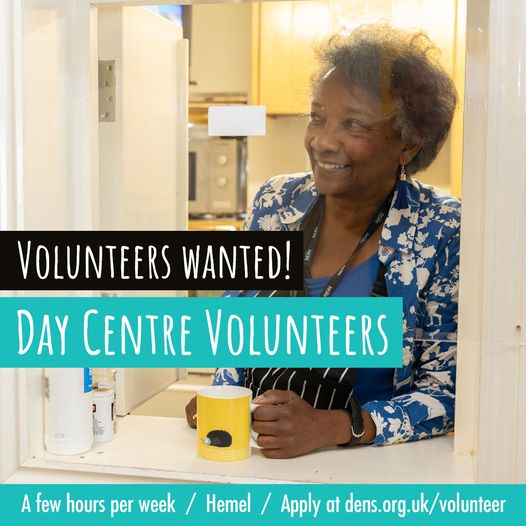 ---
Community Action Dacorum
Community Action Dacorum will be at the High Street Baptist Church in Tring on the first Friday of every month. The next two dates in Tring will be Friday 5th May and Friday 2nd June. Contact them via email [email protected] or call 01442 247209.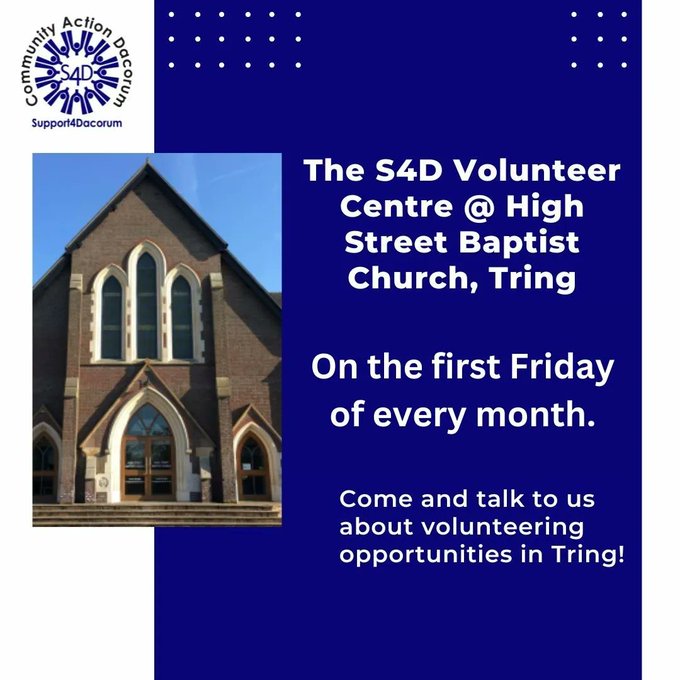 ---
Compassionate Neighbours
Compassionate Neighbours provide social and emotional support and companionship to people who are experiencing loneliness or social isolation as a result of living with a life-limiting illness or bereavement. After training Compassionate Neighbours are matched with people based on location, interests and character, with the aim of creating genuine, mutually-beneficial friendships. For further information click here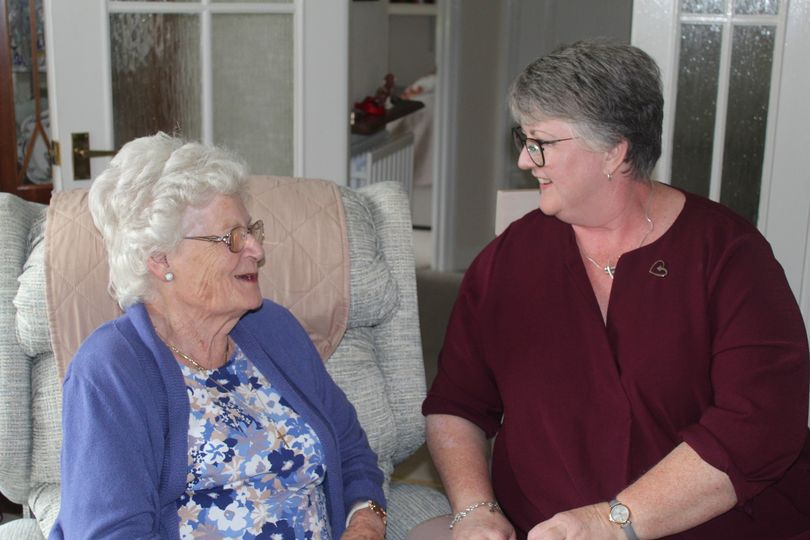 ---
Supporting Hands Volunteer
Volunteers in this role provide support, companionship, respite care and help reduce social isolation for Rennie Grove Hospice Care patients with a life-limiting illness and their carers in their homes and on trips out. This role may involve practical and emotional support and assistance. For further information click here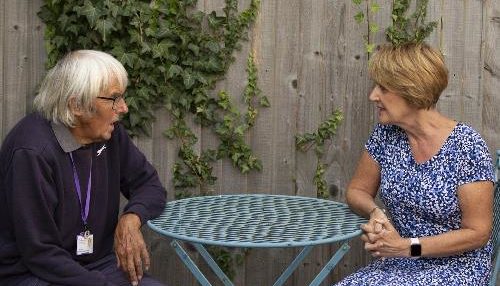 ---
Compassionate Communities Group Volunteers
Compassionate Communities Group Volunteers are trained local people who offer their companionship, time, social and emotional support to people towards the end of life due to age or illness and/or people who are suffering with a loss, in a group setting like a Community Hub and/or Compassionate Café. All volunteers take part in a structured training programme. Once completed they are asked to support a local Community Hub and/or Compassionate Café. For further information click here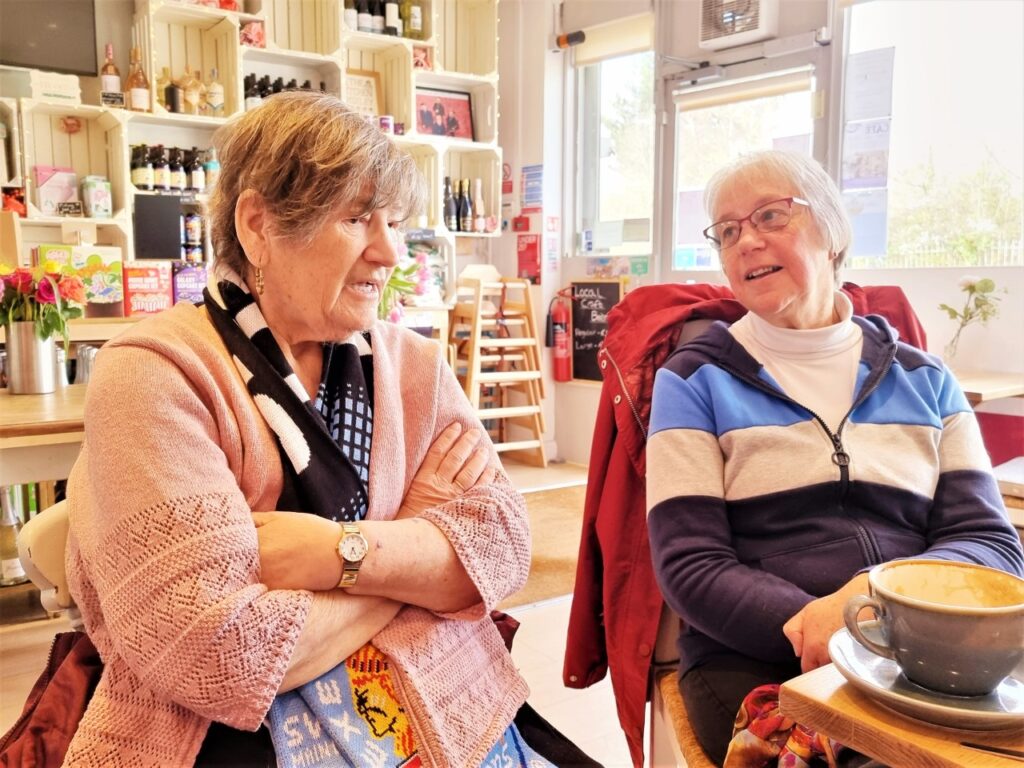 ---
Cecil's Horse Sanctuary
Cecil's Horse Sanctuary need Volunteers to help them with their pony sessions on Sunday afternoons in Berkhamsted as well as helping at school fetes, summer fayres and country shows etc throughout the Spring and Summer. Please get in touch for further details: [email protected]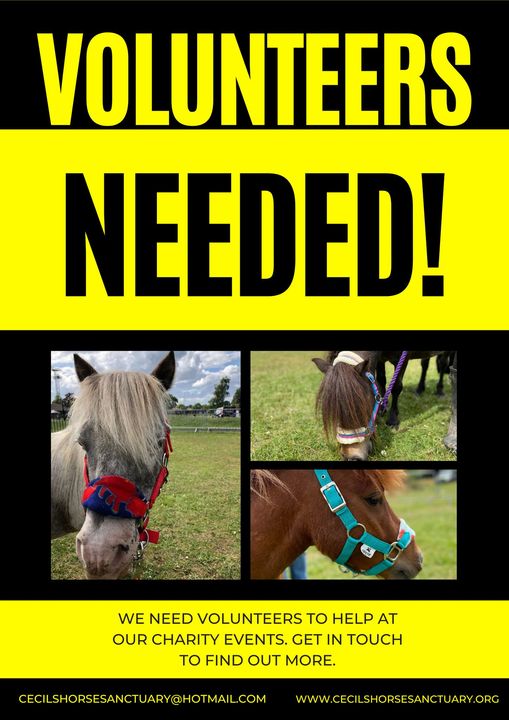 ---
My Wellbeing W3RT
My Wellbeing W3RT are seeking empathetic volunteers to join their Cancer Support Group. As a volunteer, you will have the opportunity to provide emotional support and companionship to not just those who are currently fighting cancer, but to the families, friends and carers that are affected too. Your presence and your kind words can make a huge difference in their day-to-day struggle. If you are interested in becoming a volunteer, please contact Karen Collett at [email protected]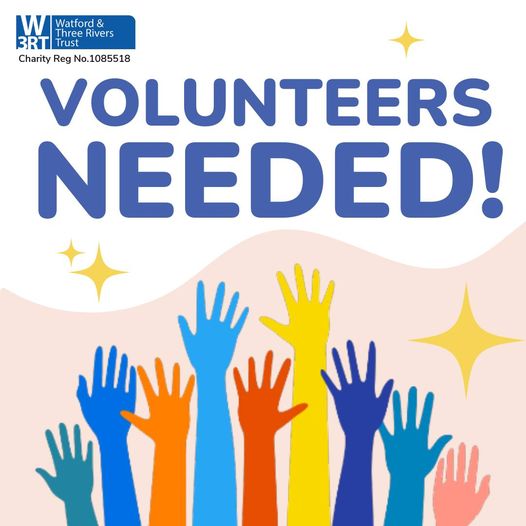 ---
Watford Interfaith Association
Volunteers will be helping to maintain the Watford Peace Garden, located in Cassiobury Park. Jobs include weeding, planting and restoring the labyrinth. To sign up click here

---
Gokula in Watford
Come get creative and make delicious meals from supermarket donations that would otherwise be thrown away! Anyone over 18 years old is welcome (from age 16 accepted when accompanied by an adult). Gokula need volunteers Mondays to Thursdays. Come once a week or once a month. Enquire via Facebook click here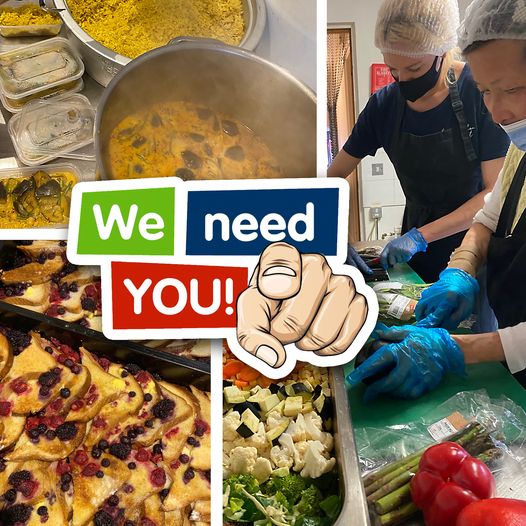 ---
The Radlett Centre
A great way to learn new skills and meet new friends, whilst ensuring their patrons have positive and enjoyable experience. At The Radlett Centre, 1 Aldenham Avenue, Radlett, WD7 8HL. click here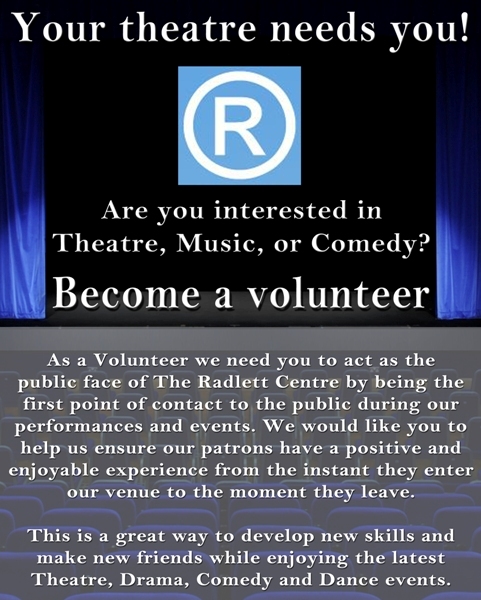 ---
Volunteering at Hertfordshire Libraries
You will be working regular sessions which will be agreed with your library. Benefits of volunteering include, meeting new people and work as part of a team, contribute to the local community, learn new skills, and improve your CV. For further information click here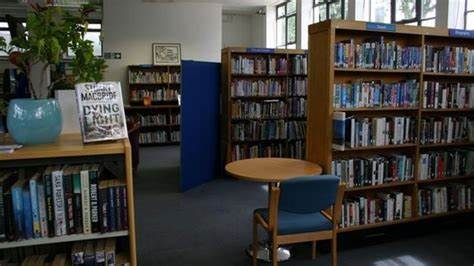 ---
Countryside Volunteering
Enjoy Hertfordshire's countryside through a variety of volunteering opportunities. From Friends of Greenspaces, wood wardens, health walks and more. For further information click here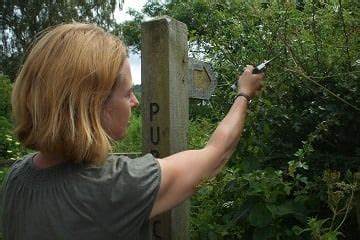 ---
Guideposts Hertfordshire
Volunteer for Guideposts and learn new skills, meet new people or figure out what you want to do as a career. Make a difference to the lives of people with learning disabilities, mental health difficulties, or dementia. For further information click here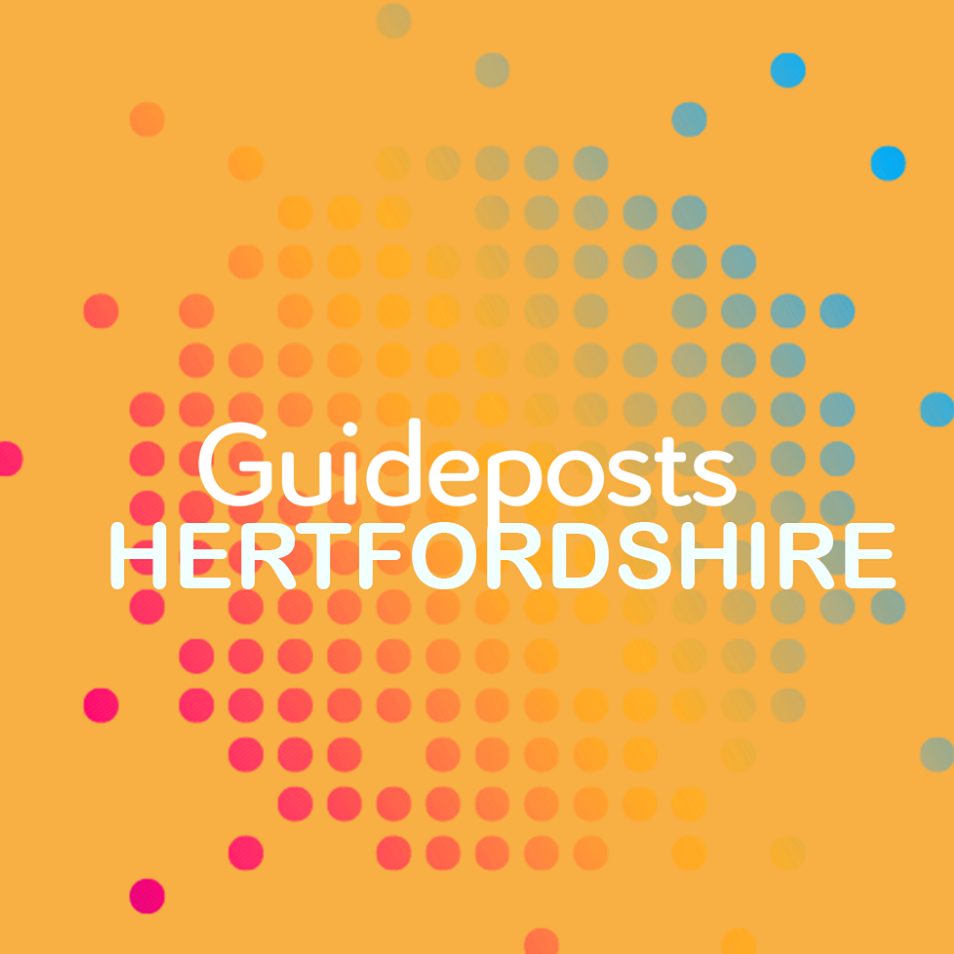 ---
Day Services
Supporting older people, people with physical disabilities and people with learning disabilities to take part in activities. You will be taking part in a range of different activities including, supporting a local lunch club, serving meals and making coffee, helping with computer skills, supporting a drama group, or simply playing board and card games and chatting. For further information click here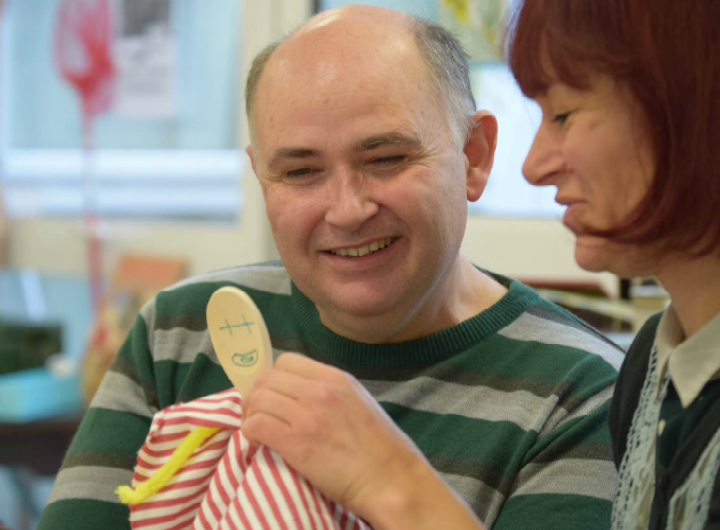 ---
Bus Buddy
Become a Bus Buddy to join in and help out with a regular Shopper Bus services, or day trippers outings. Communities 1st works with a range of voluntary and statutory partners across Hertfordshire. To register click here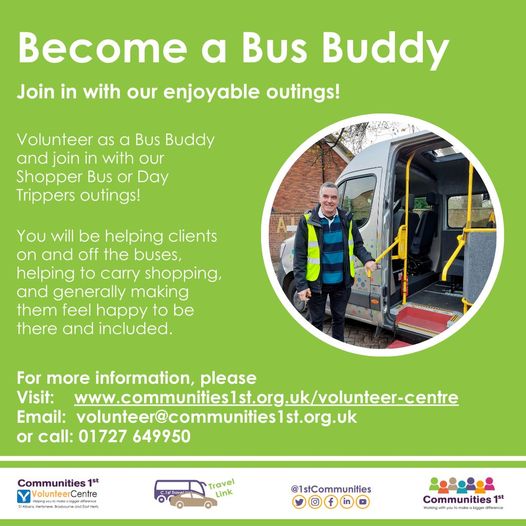 ---
Pump House Volunteer Team
Volunteer to help provide world-class art, music, drama and comedy to local residents and ensuring that Watford continues to benefit from these activities. They have a variety of volunteering roles at The Watford Pumphouse, Local Board Road, Watford, WD17 2JP. For further information click here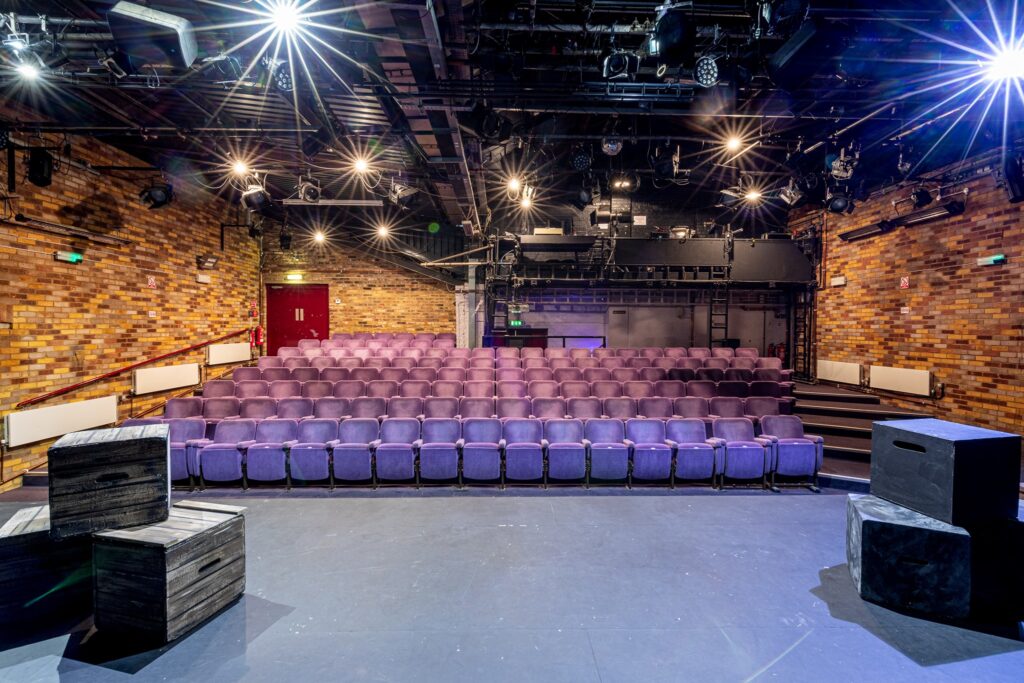 ---
Reveley Lodge
Reveley Lodge need help with fundraising, maintaining the house and gardens, helping at events, stewarding house tours, researching the history of the house and preparing exhibitions. If you would like to get involved, please email [email protected] or phone 0208 950 1017. Reveley Lodge, 88 Elstree Road, Bushey Heath, WD23 4GL.

---
National Animal Welfare Trust
National Animal Welfare Trust need volunteers to help run their cafe, and help bring in more funds for their animals. At NAWT Hertfordshire, Tylers Way, Watford-By-Pass, Watford, WD25 8WT. Download the role by clicking here
---
Health Walks Volunteers
Join a team of more than 200 volunteers who help others become healthier and happier by walking together outdoors. No experience is necessary. You can lead walks or provide support from the back. Volunteer once a week or once a month it is up to you. Visit Hertfordshire Health Walks for more details or give the team a call on 01992 555888.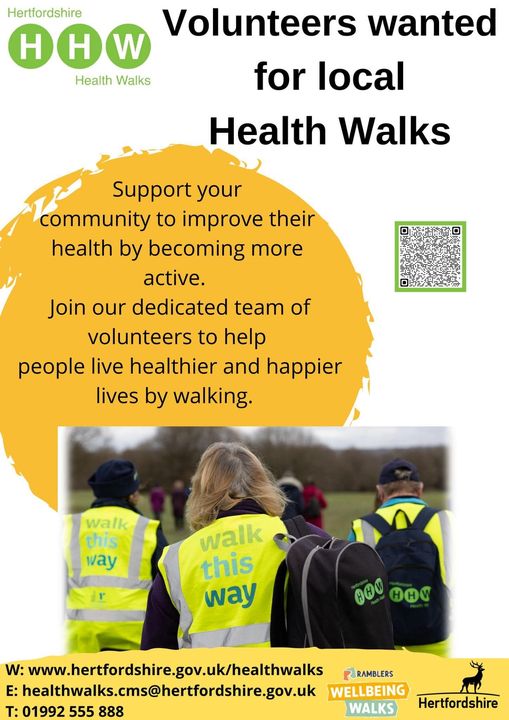 ---
Random Cafe
Volunteers will be assisting in their community gardens, helping maintain and develop them so that they can be enjoyed by the community. Garsmouth Way, Watford, WD25 9DR. get in touch at [email protected]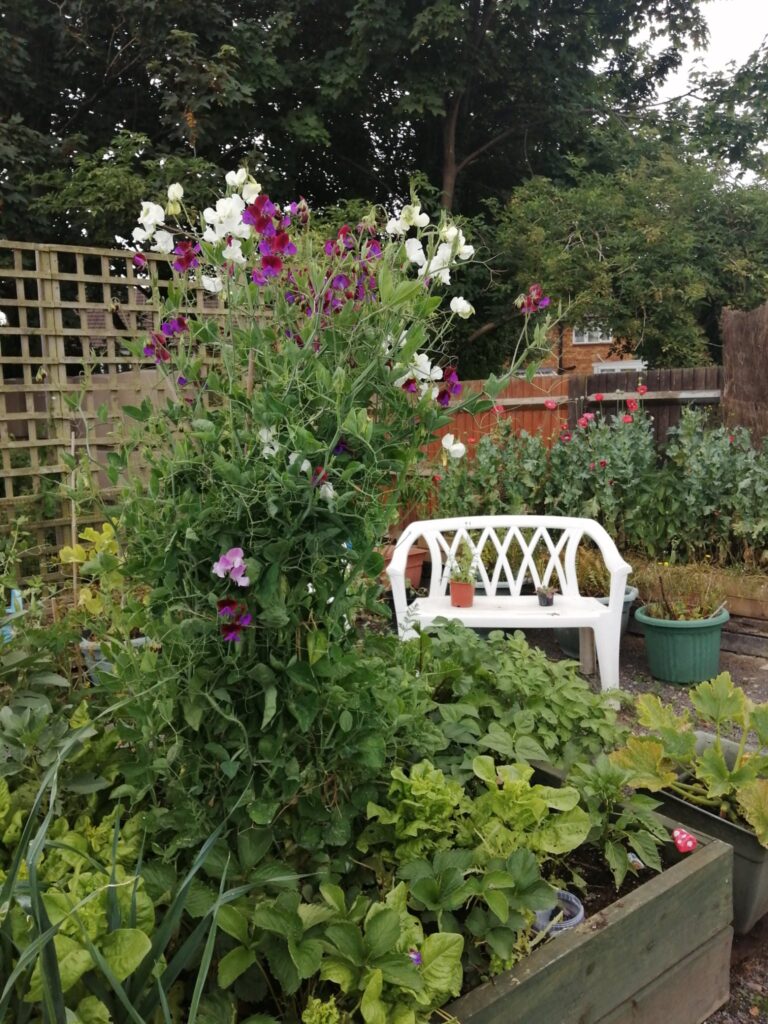 ---
Foodbank
Can you help by donating any non perishable food items to the Barn, 1 Watford House Lane, WD17 1BJ, this will provide extra support for those families who are struggling right now with the Cost of Living Crisis.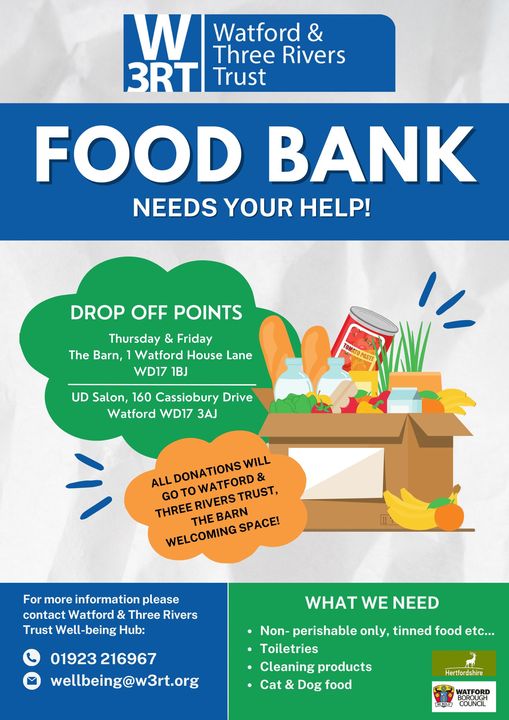 ---
Groundwork East
Groundwork East are looking for volunteers to join the citizen monitoring project in Watford. There are lots of different opportunities; from helping set up a community group to regular surveys of the river. To sign up click here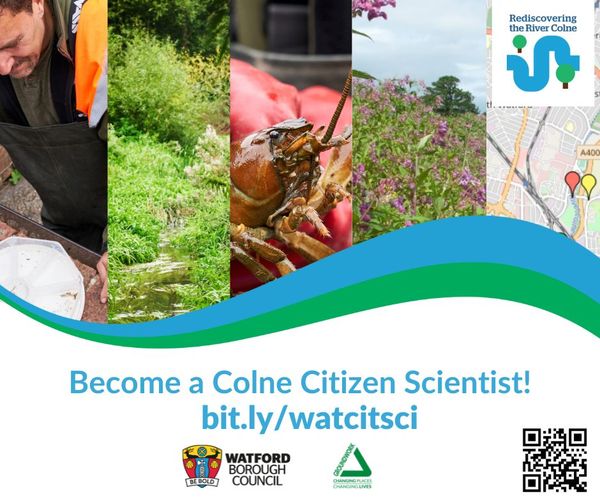 ---
W3RT CVS Community Car Drivers
Have you time to spare? W3RT CVS need you to join their team of volunteer community car drivers. If you have ever wanted to payback or just need something different to do this could be for you. Please contact us for more information on 01923 216962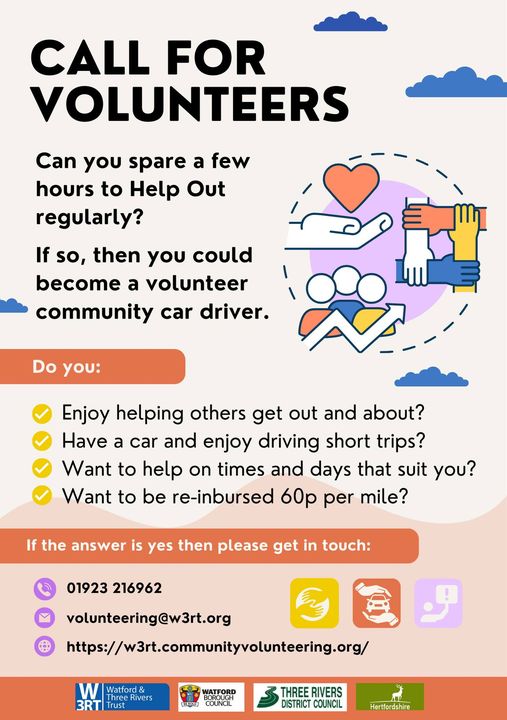 ---
Pets In Need Herts
Pets In Need Herts are seeking volunteers in the following areas to deliver pet food parcels at your convenience. St Albans, Hatfield, Welwyn garden city, Harpenden, Enfield, Stevenage, London colney, Berkhamsted, Luton, Bedford and Hemel Hempstead.
You can decide your own hours and days. Parcels for a number of service users will be given to you once a week or once a fortnight. You can deliver parcels or meet the recipients where's convenient for you. Your support would really help them feed more animals, allowing owners to be free of worry and stress.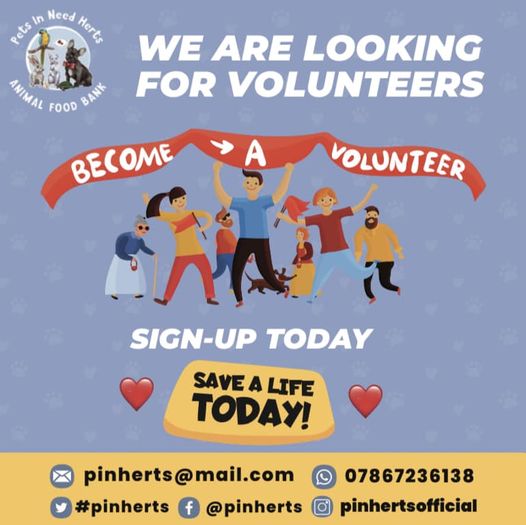 ---
One Vision
One Vision urgently need more volunteers. They need cooks, packers, Hub leaders and drivers. Get in touch by email [email protected] or call 01923 372699
---
New Hope
The New Hope team in Watford are looking for drivers to help collect and deliver donations as well as helping people move into their own homes. Please have a look at their website for details click here
---
One Vision
Are you and your car looking to give back to the community? Can you spare a few hours each week to help with either picking up cooked meals and delivering to the One Vision food Hub, or delivering meals and groceries to families in need in and around the Watford area? Get in touch with One Vision by calling 07306 019 294 to learn more about what it means to be a volunteer driver. They have both consistent and flexible shifts available.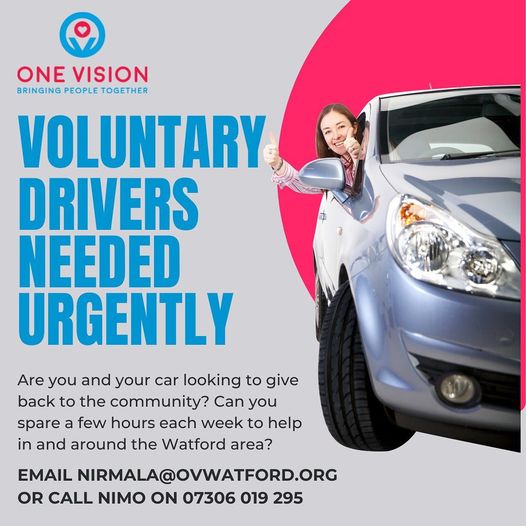 ---
Watford Band
Watford Band is a friendly band in need of new players. why not come and join them? Rehearsals are on Tuesday and Thursdays evenings. Call 07796 175838 for more information.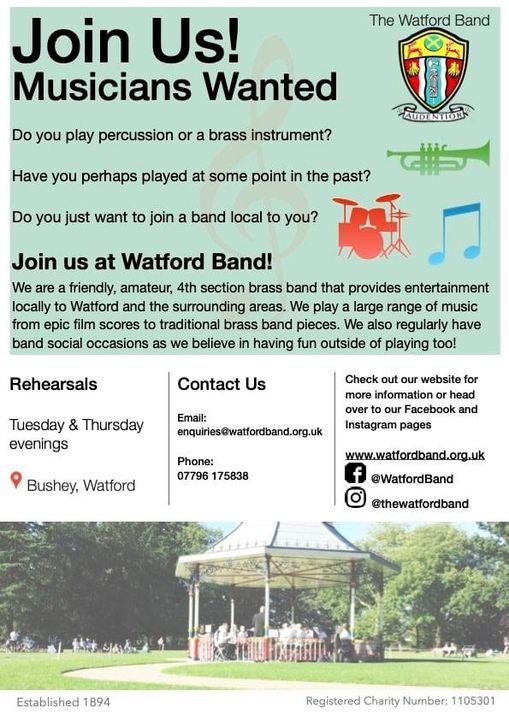 ---
Age UK Hertfordshire
You will be matched with an older person and visit them for a chat in their home or telephone them on a weekly basis. If they are able, you could also take them out for a walk or a cuppa in a cafe or garden centre, or visit any other places you fancy. Your visit or call could be the highlight of someone's week and brighten both your days. For further information click here

---
National Childbirth Trust (NCT)
NCT family-friendly, flexible approach to volunteering means that you too could join their NCT family. How much time you can give is completely up to you. It is a great way to join a like-minded community, develop new skills and have some fun.
Everyone can volunteer, you don't need to be an NCT member or be a parent. To register your interest in volunteering click here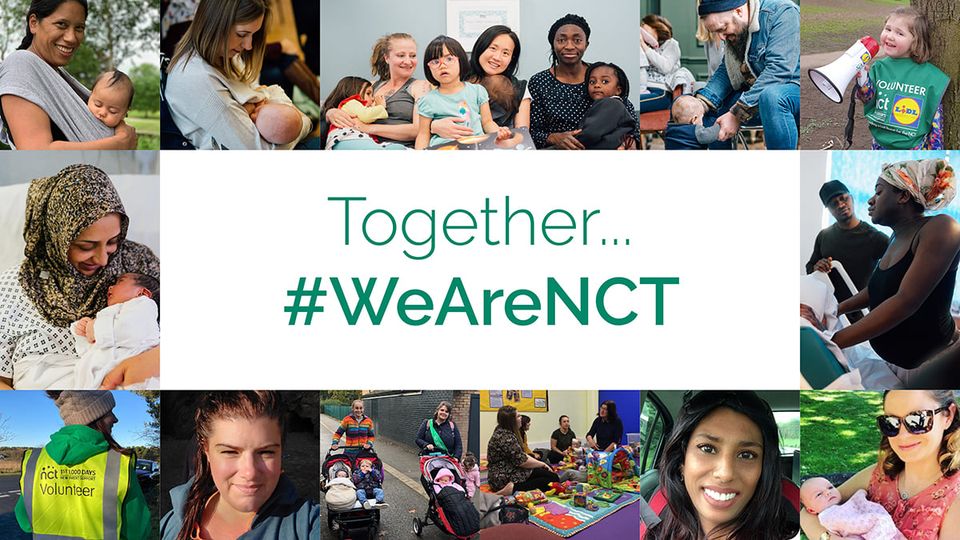 ---
Home Visitor
Home-visiting volunteers play a core role in the support Home-Start give, offering emotional and practical support for 2-3 hours per week in whatever way the parent finds helpful.
Home-Start will set up a time to chat with you in the comfort of your own home to get to know you better, understand why you're interested in volunteering, and learn about your own parenting and life experiences that will help you in the role. It will also be a great opportunity for you to find out more about Home-Start and what they do. For more information email [email protected] or call 01923 248010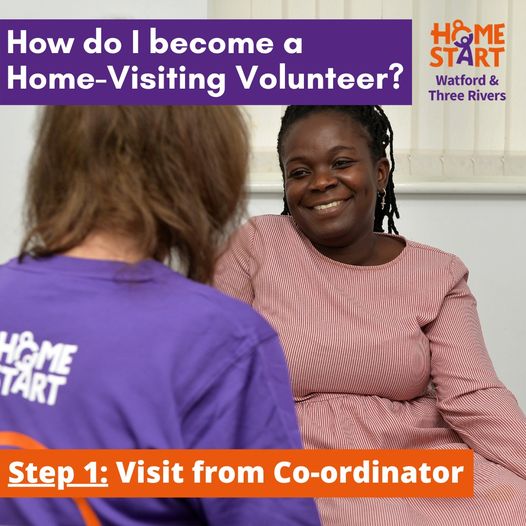 ---
Alternatives Watford
Your time, energy and experiences are of great value to Alternatives – volunteering for a few hours a week makes a huge difference to the charity and to the community. If you have only a few hours to spare on an ad-hoc basis but would still like to get involved, please click here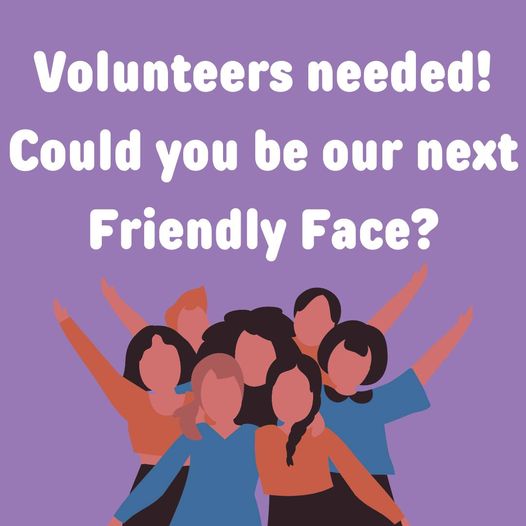 ---
Community Cars
Community Cars provides essential journeys for those unable to use public transport, due to mobility or health issues.
Drive passengers to and/or from their destination in a timely professional manner whilst putting them at ease before, during and after their journey. Report any issues, incidents or concerns to the Health & Wellbeing team. Reimbursement of 60p/mile. For further information click here or call them on 01923 216962.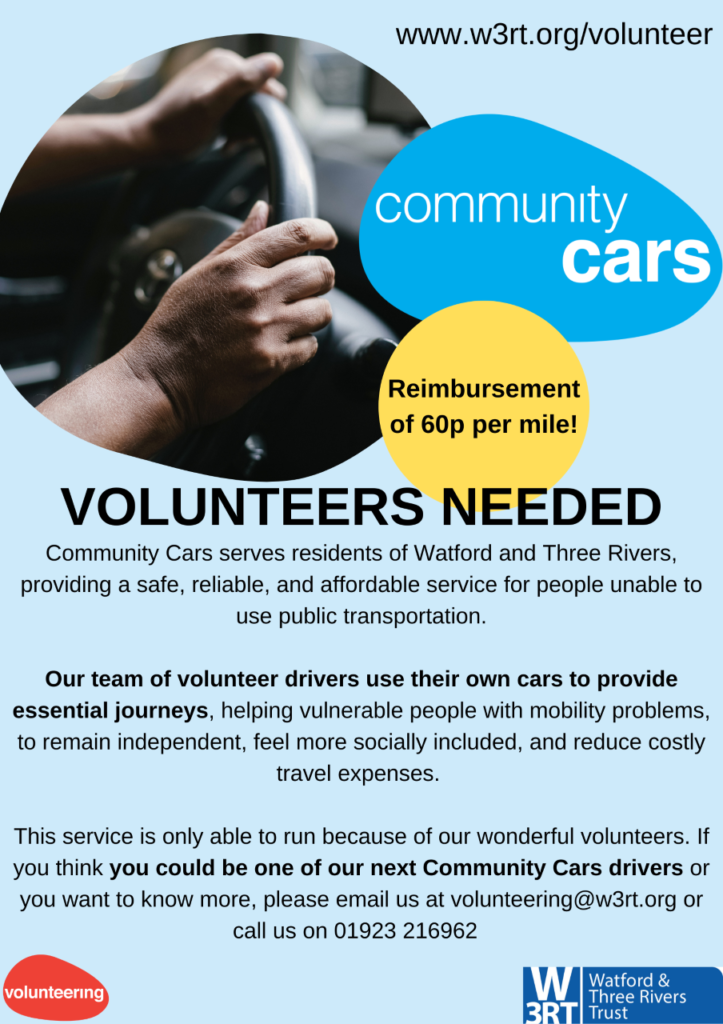 ---
Golden Volunteer
If you are looking to volunteer in the local area, click here to see the latest opportunities in the Watford and Three Rivers area.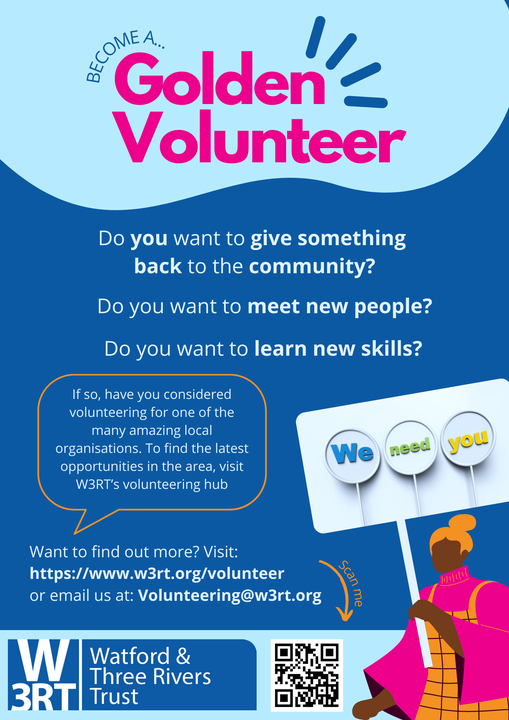 ---
Watford & Three Rivers Family Centre Services
Watford & Three Rivers Family Centre Services are looking for play session volunteers to support their staff in running their new sessions, including, Baby Group, Active Rhyme Time and Physical Fun. For further information click here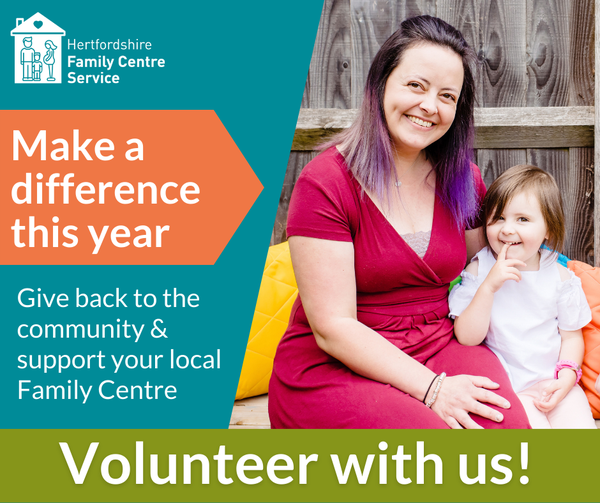 ---
Herts Inclusive Theatre
Want to become a Trustee of a local charity, and make a difference? Local multi-award winning charity Herts Inclusive are looking to strengthen their board of volunteer trustees. If you would like to join [email protected] or call 01923 216951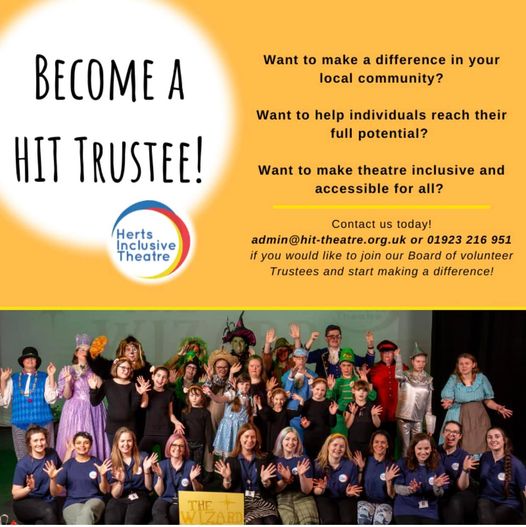 ---